[toc]
Saurabh Van Vihar is a very popular tourist place located at Palampur town of District Kangra in Himachal Pradesh, built in memory of Kargil hero, the late Captain Saurabh Kalia. The Vihar is built and managed by the Forest Department of HP. Palampur is a popular hill station situated about 35 km from Kangra. The town is surrounded by beautiful tea gardens and a forest of pine and deodar trees. The Majestic Dhauladhar Mountain Range and small streams which flow through the mountains to the plains create a mesmerizing experience for the witnesses. Saurabh Van Vihar is a nature park lying in the lap of snow-clad Dhauladhar Mountains, surrounded by lush green forest.
Location: The Park has been built at a distance of 5 km from Palampur, covering an area of over 35 acres. It is situated on hill side bank of rivulet Neugal Khad in a village Kwath. It takes around 1-2 hours to roam around the place.
Timings: 9:30 AM – 6:30 PM (All Days).
Entry Fee: 20 INR per person.
How to reach Saurabh Van Vihar
By Train – Palampur town is well-connected with roads and a rail network. The nearest railway station is Palampur, on the Pathankot-Jogindernagar narrow-gauge railway line, which is about 120 km from Pathankot.
By Road – Palampur town can also be accessed via road from Delhi, Chandigarh and Pathankot with a distance of about 543 km, 252km and 120 km, respectively. One can take a Volvo or HRTC bus or hire a cab from these places to reach the city.
By Air – The nearest Gaggal airport is about 45 km from Palampur, where direct flights arrive from Delhi and Chandigarh.
Also Read 14 Temples of Kangra District
About Saurabh Van Vihar
The name Saurabh Van Vihar is assigned to the Park as a tribute to the great martyr of Kargil War (1999), Captain Saurabh Kalia. Today, the park serves as the memory of many fearless soldiers, who sacrificed their lives for the security and pride of the country.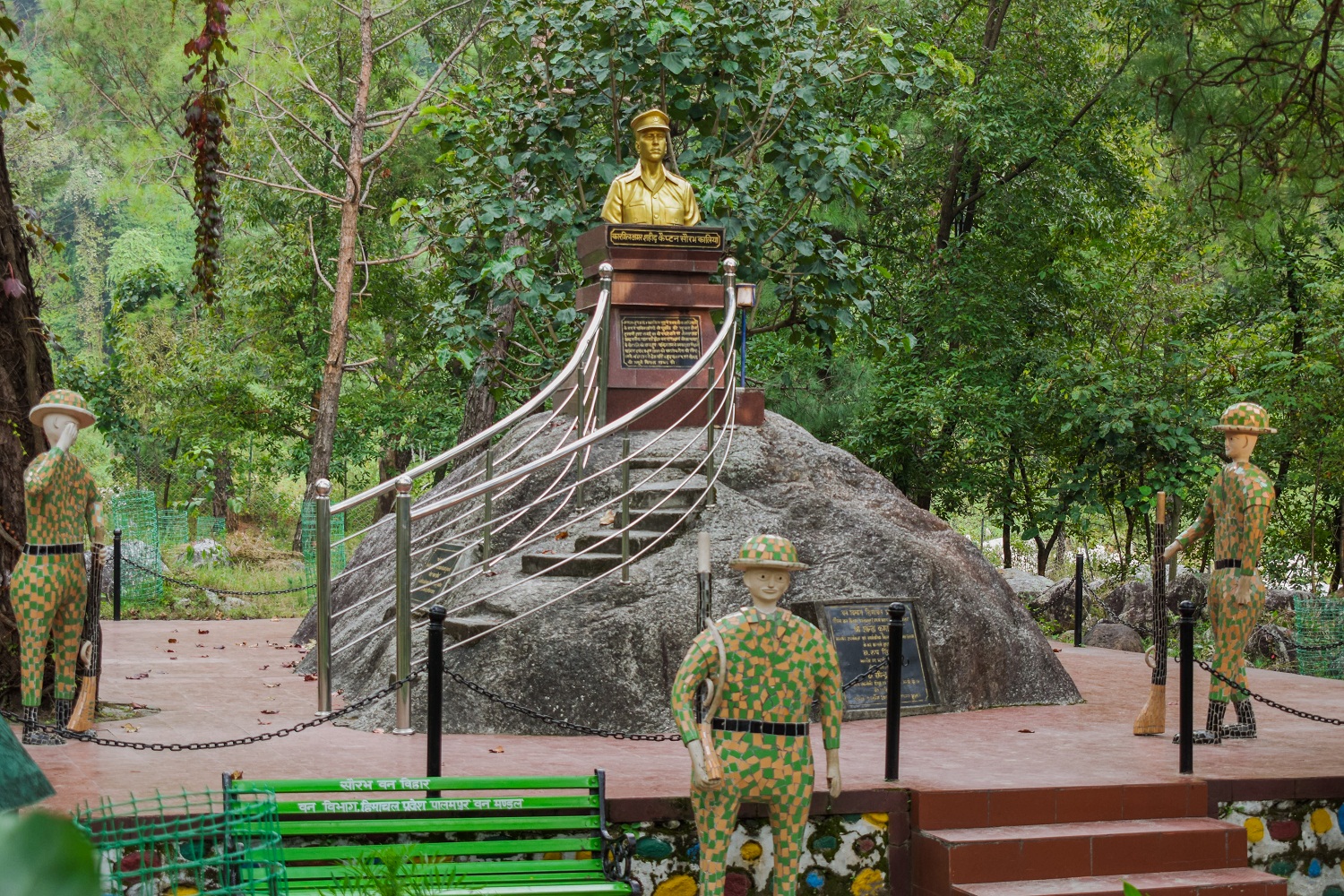 Who is Captain Saurabh Kalia?
Capt. Saurabh Kalia was a brave soldier, born on 29th June 1976 to a Punjabi Family in Amritsar, India. He completed his graduation from Palampur Agriculture University in medical sciences in 1997. Later he joined the Indian Army and was commissioned into 4 Jat of the Jat Regiment, an infantry regiment known for its fearless soldiers and various battle and theatre honours. His first posting was in Jammu and Kashmir, where his unit was deployed in the Kaksar area of the Kargil sector in 1999. During the same time he was promoted to become Captain. On 15th May 1999, Kalia, along with his five soldiers, was doing routine patrolling, and there they got engaged with the Pakistani soldiers across LOC in a firefight. The six soldiers ran out of ammunition, and Pakistani forces captivated them. The Pakistani soldiers brutally tortured them for more than 20 days to death. They handed over their bodies to the Indian Army on 9th June 1999. In the beginning, Van Vihar was constructed in order to make people realize the importance of the nature, but slowly it became more popular among tourists. The park offers many medicinal plants, a long trail of forest, small water bodies, an open-air amphitheatre as well as a Tiger Hill Bridge. This is a great place for families, children and tourists to hangout and enjoy the natural beauty this place offers.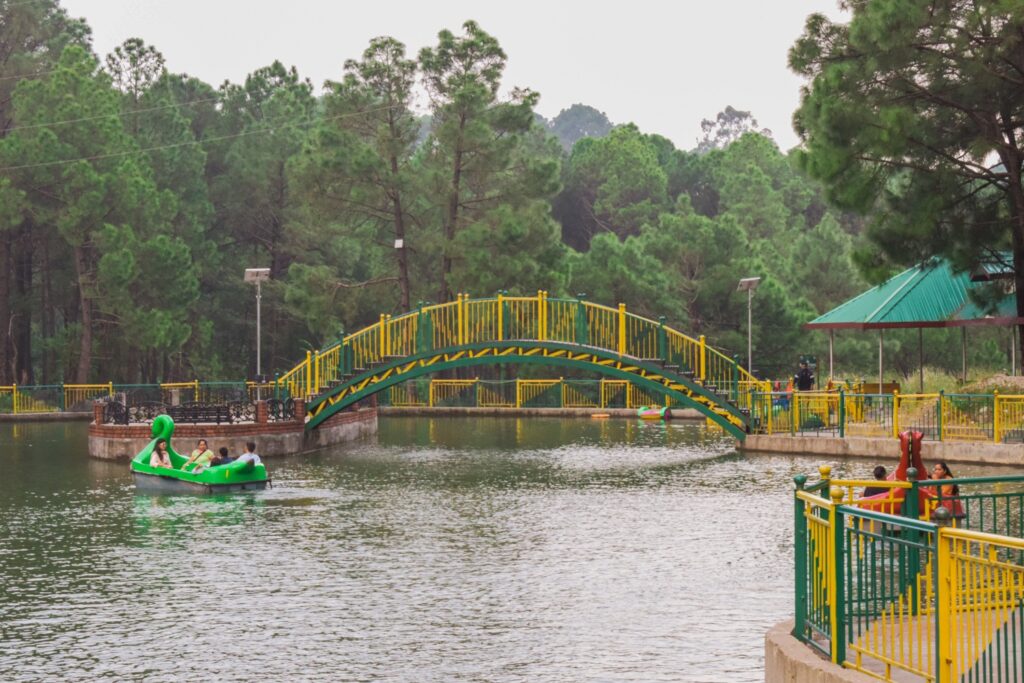 Activities to do at Saurabh Van Vihar
Boating: There is a small but beautiful lake in the middle of the Park, where people can ride over the boats. There is also a bridge built over the lake, best suitable for clicking photographs.
Bird watching: This is a nice place for bird photography enthusiasts as well, as there are many varieties of birds available to explore. One can enjoy the beauty of the forest and can do bird watching at the same time.
Aquarium visit: There is an aquarium built in the park, where one can enjoy the company of variety of small and big fishes.
Picnic spot: The Park offers an amazing place for all picnic lovers. Families can have the experience of picnic and enjoy the home-cooked meal brought with them while experiencing the beauty of nature. There is a small restaurant as well, where one can eat while appreciating the nature. This is a great place for children to play with, as the children have a lot of space and swings to play, with all the facilities meant for their happiness have been taken care of. They can also do Bouldering. One can appreciate nature and can go on a long walk in the forest. Visitors can also visit neighbouring places like Neugal Khad and Kandi village.