In today's busy schedule, while we are working very hard from morning to evening, we have very little time to recharge ourselves. Unfortunately, we are in that phase where we have to plan these things, especially, so there is some change in our routine. Hi everyone, I am Vaishali, and today, I want to share my experience with you, that is, a visit to District Mandi (Kamrunag), a lovely place in Himachal. My team lead (office) who is from Himachal and is crazy for the mountains himself, had made this plan and was successful in showing the beauty of the mountains to the group. We were three people, including myself, my team lead, who suggested us the place and my roommate. There were 6 people while making this plan, but there can be no such plan, in which when the time comes, people do not remember their other important work and they refuse to go. But the positive thing is that sometimes we meet amazing people on the pretext of traveling. So here also another person has been added to our group like this.
The Journey
Due to the Dussehra holiday, which was on Friday, we got an extra vacation along with the weekend. That's why we planned to leave on Thursday night, so we could use the night for travelling and make use of the day for sightseeing and other activities with full energy. My team lead had asked us to reach 43 bus stand in the evening on Thursday, as our bus to Himachal was to leave from there, and two of us reached there on time. No, no, I am not telling you that the other two boys didn't come with us, they came separately, and after reaching the bus stand at 9 o'clock, we took the bus at 1 o'clock. Being so late had made me angry, and I stared at my team lead, but he, by showing his innocent smile, beat the matter in a very good way. So we started our journey on Volvo at 1 a.m., and we were all excited for the next day.
वो सफर ही क्या जिसमे मुश्किलें ना हो
I am not being a poet, but these lines describe our journey in the best possible way. My roommate who is also a very good friend of mine also loves mountains. Like me, she never has special demands, she just knows how to enjoy the moment and the time. Much appreciated, she didn't tell us she had altitude sickness. So after some time, we got a chance to see her performance. I don't know how I felt the need to take the anti-sickness and vomiting medications before leaving. So I was all good throughout the travel, and now, I am proud of myself that I had taken that medicine. We had a peaceful journey ahead because of that.
The Destination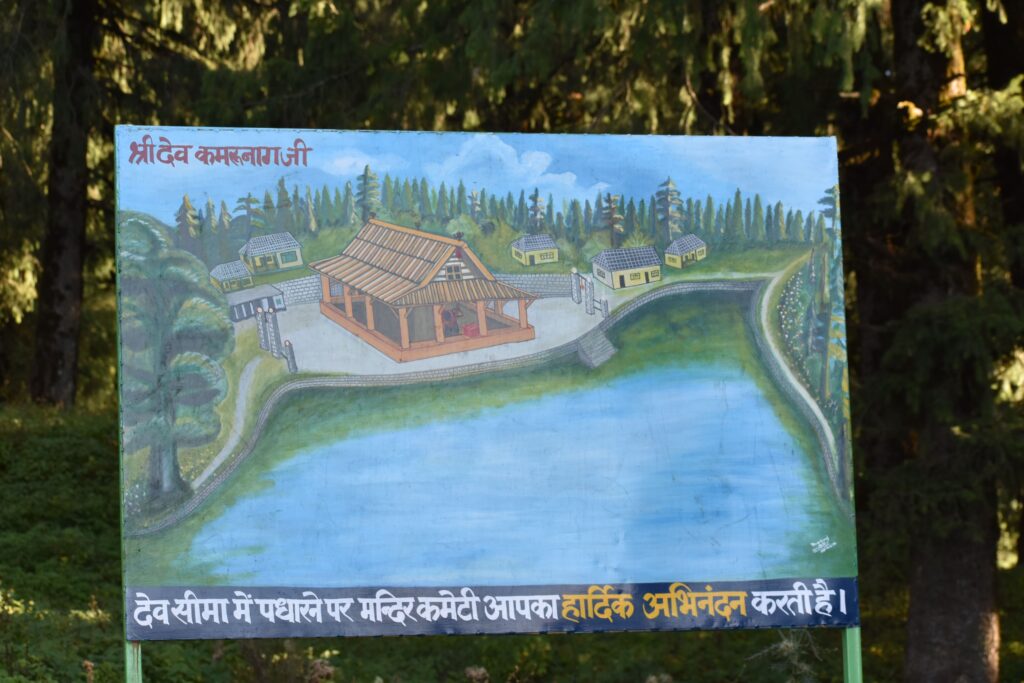 The beautiful view of the mountains was boosting my excitement, especially the mountains in the morning were too pleasing to my eyes. We reached Ner Chowk at 6 in the morning and started looking for our hotel which was only 2 minutes away but it took us 10 minutes to find it as we went beyond the actual location. But the hotel was where we got off the bus. We had already decided that after having rest till 9 o'clock, we would leave for Kamrunag temple. So the reality is we started our journey in car from Chail Chowk at 11 and reached Jahal. To avoid trekking we opted for the Chail Chowk – Devidarh route. There is another road made to reach the Kamrunag Temple but isn't quite ready for driving. There were many such instances in the middle that we had to push the car, too. This drive was followed by a trek of just 1 hour, which was well laid and easy for beginners as well. We reached the trekking point at around 1 o'clock. Here we all started the trek with great enthusiasm and started following my roommate who gave us the courage and motivated us to walk.
We carried water bottles with us while trekking and bags in which we could store wrappers and used bottles. This was my first trek, and I was very confident that I can complete it without bothering anyone. But I was the only one who was all behind, and who was gasping the most in the beginning. My roommate at the front, our newly added friend, then me, and my team lead. It was the lush green beauty and fresh air that gave me courage. Not only fatigue but scenic beauty was keeping me behind from all. By now, it must have been some 30 minutes since we started the trek that things started changing. Our leader, my roomie who was encouraging all of us, was too tired to walk further. That is when I came to know that I am not the only one who is trekking for the first time. Here I found many reasons to laugh as the boys did not know that not only the car but my roomie would also have to be pushed to reach Kamrunag.
We reached Kamrunag temple at around 2 o'clock. After visiting the temple, we all went towards Kamrunag Lake, where people offer things like gold, silver or money to the diety according to their beliefs, after fulfillment of their wishes. After reaching this lake, we saw the coins reflecting from under the water. And this was the time when I had more desire to know about Kamrunag Devta and this lake.
View this post on Instagram
I came to know there that Kamrunag was the son of God Ghatotkacha, the great warrior who sacrificed his life before the start of the Mahabharata war. Knowing this, I wanted to know more about the temple. This place in the dense shade of deodar trees was making us feel relaxed. Here at some places, we tried to capture every moment through the camera. Before stepping downwards, we ate paratha and Maggi nearby the temple. Enjoying that moment and the beautiful views, we all got down and reached our car around 5 pm.
At 7 o'clock we reached back to our hotel. Everyone was very tired, so it was necessary to go to their respective rooms and have some rest. After having a good nap, both of us girls had a little dinner and joined the guys holding a glass of juice, while the guys enjoyed big glasses of beer. So far we had enjoyed each other's company on the journey, and this moment was the most different and memorable. The fourth person was seen talking openly here. Whether we attribute it to the moment or the beer, whatever happened was good. To me it was very surprising that here I saw my Roomie, who does not like to be silent much, sitting with her mouth shut as if she was not getting a chance to speak.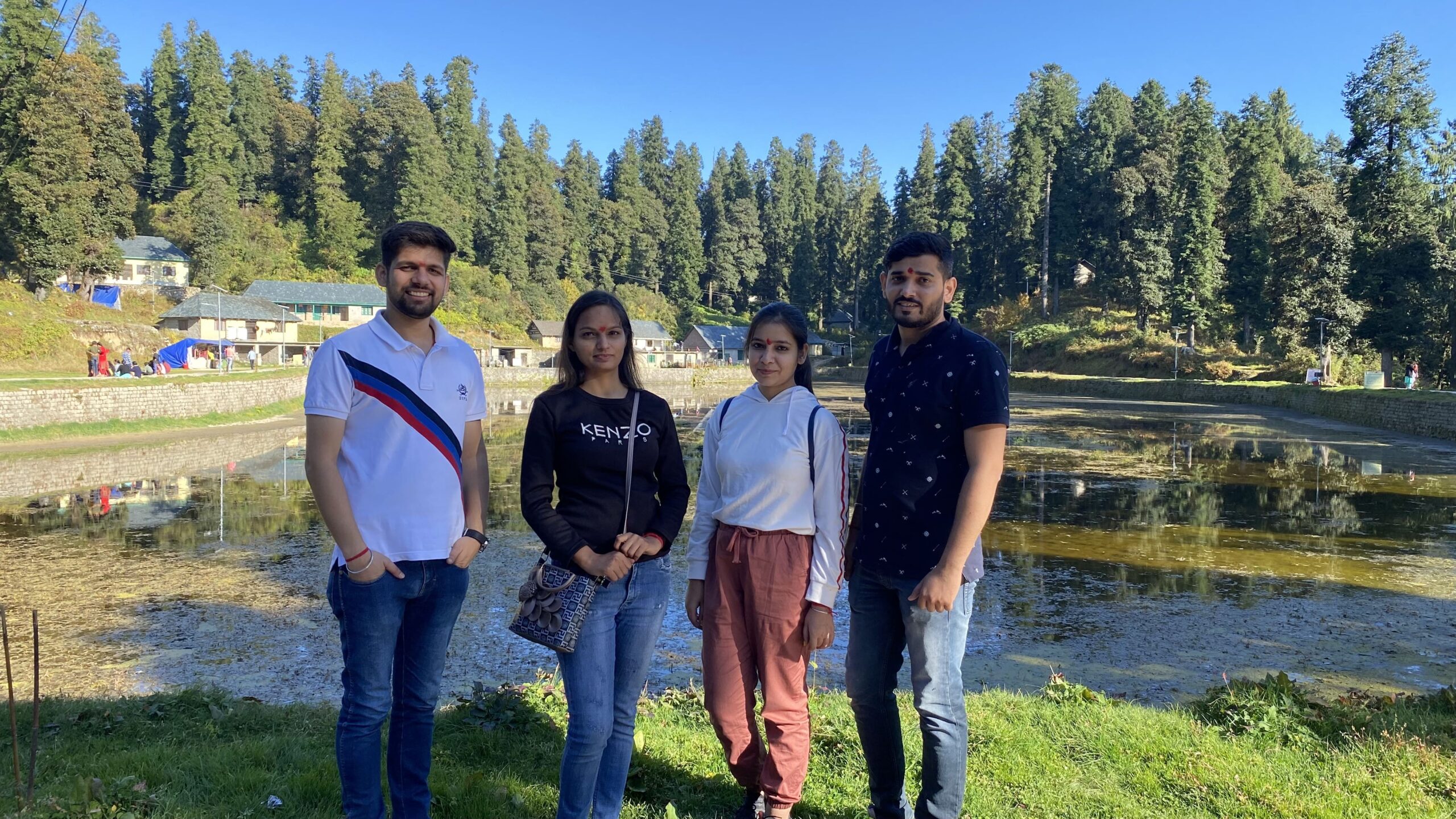 The next thrill started when we all went on the roof of the hotel while talking about ghosts. We all stood in different corners of the roof because we had to prove that we are not afraid of these things. But the real fear came when my roommate's words came out like this "ये कौन है, I said Abhilash, अरे उसके साथ में वाइट साड़ी में कौन खड़ी है?" After this 3 second conversation, within 0.1 seconds, I thought about which way to leave these three and run away. But it turned out that there was a white pillar on the side of Abhilash, which she mistook for a woman in a white sari. At that time, I doubted that maybe there was something mixed in the juice too. After doing memorable acts of such nonsense, we felt it necessary to sleep for active participation the next day, and we went to rest in our respective rooms.
The next day, we went camping in Parashar. I will be sharing the same camping experience with you in my next blog. So stay tuned for the same.