A beautiful morning it was. Excitedly, I woke up from my bed and started packing for this most awaited journey, I was planning from last 5 months now. Unlike last new year's eve, I didn't want this one to be spoiled, just by staying at home, watching tv and doing nothing… But, I indeed wanted this one to be full of thrill and adventure. So finally, the clock struck 1 in the afternoon, and I headed towards ISBT 43, Chandigarh, in a cab to board my bus. I can't even explain the level of excitement that I had, as this was going to be my first travelling experience. It's not that like I have never been to Himachal Pradesh before, but Travelling with friends and travelling with your family… you yourself can figure the difference. Ohh btw, I, myself, am a Pahadi. I belong to the beautiful, tea capital, district Palampur.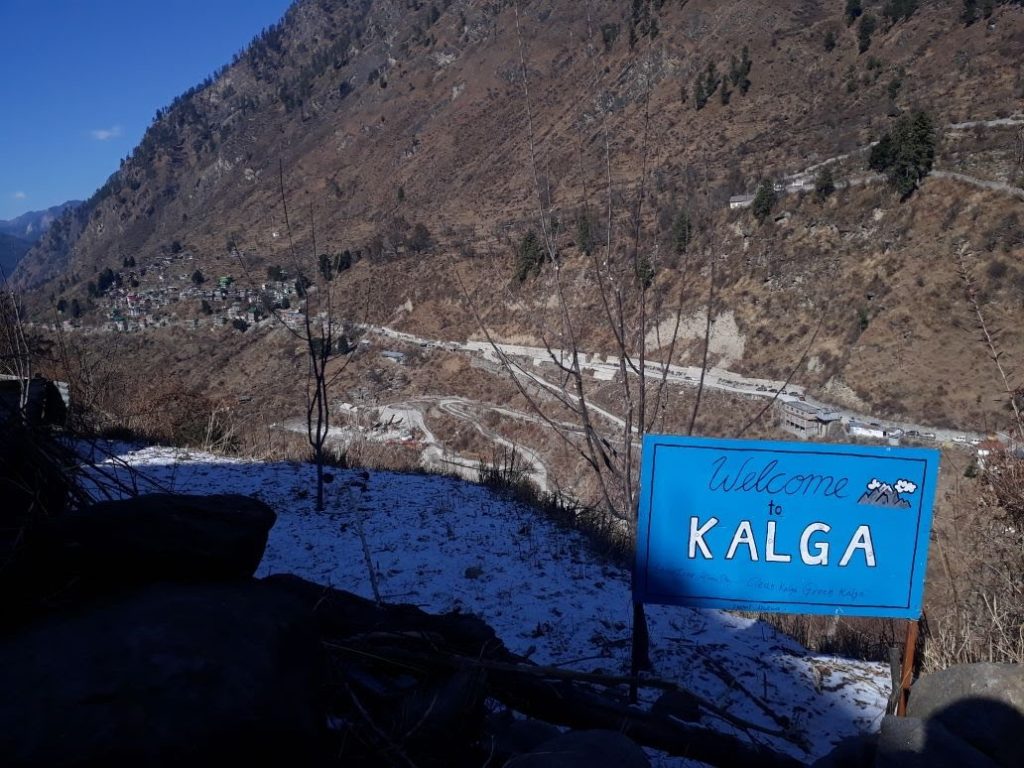 Alright, so, about my journey, I reached Barshaini nearly at about 10.30, in the evening. It is a very small beautiful village, the trail to Kheerganga, Tosh, and the trio (Kalga-Tulga-Pulga), all starts from Barshaini only. My destination was "Kalga". It's basically a trek of minimum 30 minutes from Barshaini. While I started climbing the trek with my friends, there was complete silence. The sky was all covered with the clouds, and there were no lights at all. It was rather scary then adventurous. We had our flashlights and torches on while we were trekking towards Kalga village. The cold breeze, the weight of our bags, and lack of oxygen were making our journey really hard. But still, we didn't give up, and finally, reached to our guesthouse. (And let me tell you, the rooms were really cheaper in price). Though there wasn't much light, still I could see blurred mountain line, covered in snow.
As we were really exhausted by the journey, just after having dinner, we simply went to sleep. The next morning when I woke up, I slid the curtains away and I was stunned by the view….. The peace, mountains covered in snow, the greenery of trees was so refreshing that it really brought tears in my eyes (and yes, it was damn cold). After sipping my morning tea, we headed towards a small Cafe to have breakfast.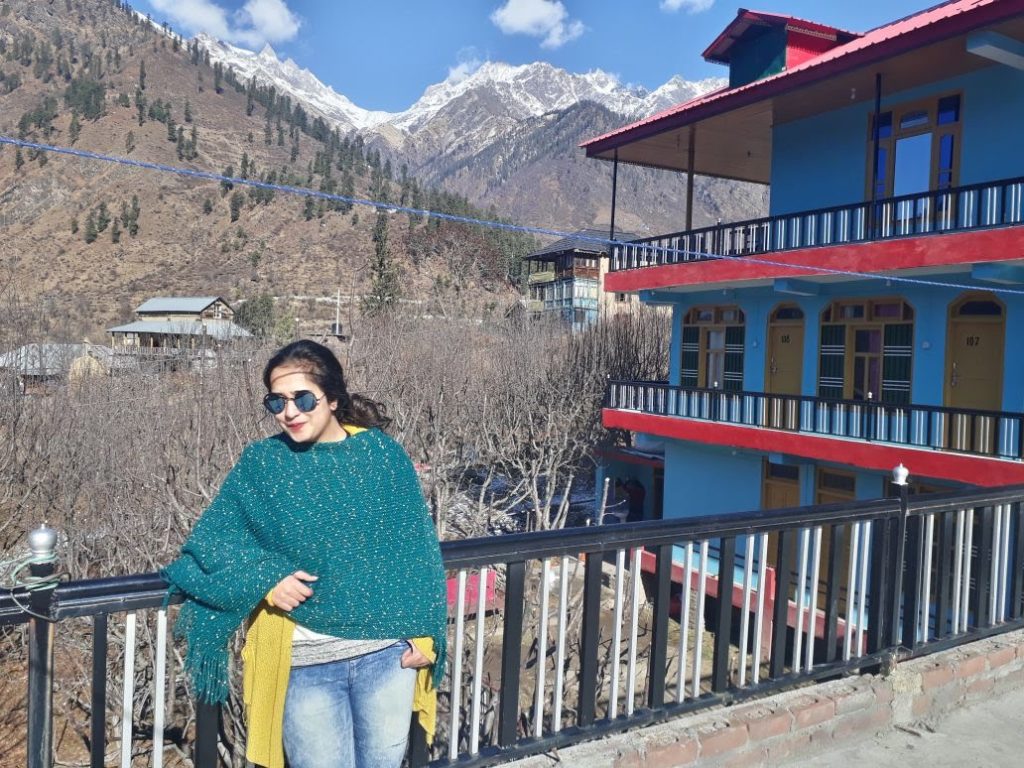 It was -3° temperature outside. My warm clothes were also not doing much for me. But, then came the sun and its sunlight, bringing the warmth. I and my friends did a little more trek that day, discovering more about that place. And then, in the evening we headed towards our guesthouse and had dinner. It was just 2 hours left now for the new year i.e., 01.01.2018 and I was really excited. We all friends were enjoying to the fullest, sitting beside bonfire one playing the guitar, and the rest singing their hearts out. And when the clock struck 12, the atmosphere gradually changed…… We could hear loud music all around, the people in other guesthouses also came out and were shouting HAPPY NEW YEAR, the sky was sparkling with the beautiful fireworks. Altogether, it was the best trip one could wish for. After enjoying for 2 more hours, we finally went to sleep.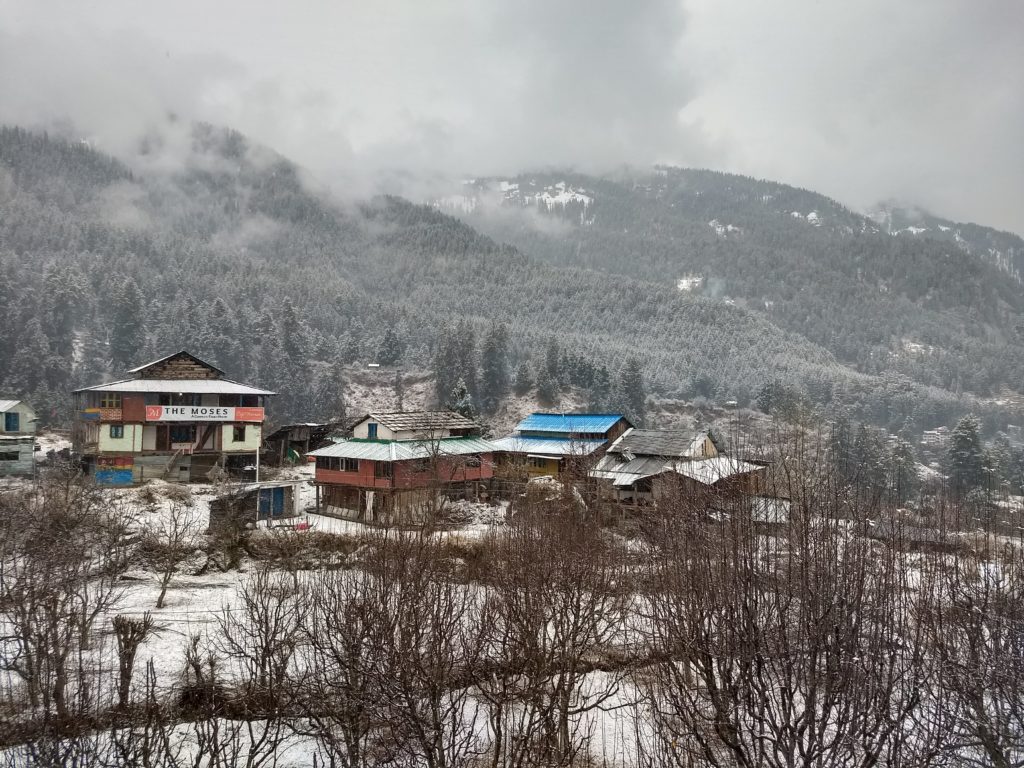 Next morning there was no sun, the sky was covered in dark clouds as if it was going to rain. We stayed inside our rooms only, playing games and watching TV, when one of my friends came running from outside shouting snow is falling. My eyes literally widened and brightened, as I had never experienced a snowfall before in my life. I went outside and there it was, my first "Snow-fall". Although I was badly shivering with the cold, I couldn't resist taking pictures. This trip was like a dream that came true to me. Well, on 02.01.2018, our journey finally came to an end, but believe me…. If you don't travel to this place, you will miss one of the most beautiful places in Himachal.