If you are also curious to know our history and mythology like me, then many places of Himachal will never let your curiosity diminish. One such place is Parashar which is some 50 km from Mandi. So here I am telling you about our next day journey. Earlier we had visited Kamrunag Temple, I would like to tell you now that which way we chose to reach Parashar from there, how we enjoyed the beauty and also got to know the surprising facts about this place for the very first time.
History and General Information About Parashar Lake
The place is famous for its floating island inside the lake. The lake is located at an altitude of 2,730 metres and has a three-storied pagoda-like temple made out of deodar wood. With intricate sculptures of serpents and creatures, this wooden temple is standing on this location. It is a bit difficult to tell the exact history of this ancient temple and place. It is said that a sage named Parashar used to meditate here on the banks of the lake. Hence this lake is known as Parashar Lake. It is also said that this temple was built by the Pandavas. After the war of Mahabharata, when the Pandavas were returning with Lord Kamrunag, this place was very much liked by him that's why he decided to stay here and Bhima, therefore, built this lake.
View this post on Instagram
A Road Trip to Prashar Lake
We left Ner Chowk for Parashar after checking out at roughly 11 am. We were pleased since the car could easily reach Parashar because the road and weather were both excellent. However, it's feasible that we would have to hike if we arrived here in the dead of winter. We caught a glimpse of IIT Mandi while travelling, and it gave me the inspiration to return to my previous studies. I was briefly frightened by the idea of revisiting my history and studying again, even though it is impossible to travel back in time. Instead, I decided it was more important to appreciate the present.
View this post on Instagram
I noticed a stunning location about an hour before we arrived at Parashar. It was a location close to Baghi village. When we were crossing the bridge, I noticed the river running and wanted to stop for a moment to admire it and feel its coolness. Even though I don't voice my desires in a rush, but I didn't wait a second to express mine when the driver said he wanted to get something from a nearby store. In the midst of the journey, the running water of here gave us a different spirit, so we stayed here for a little while and took some beautiful shots.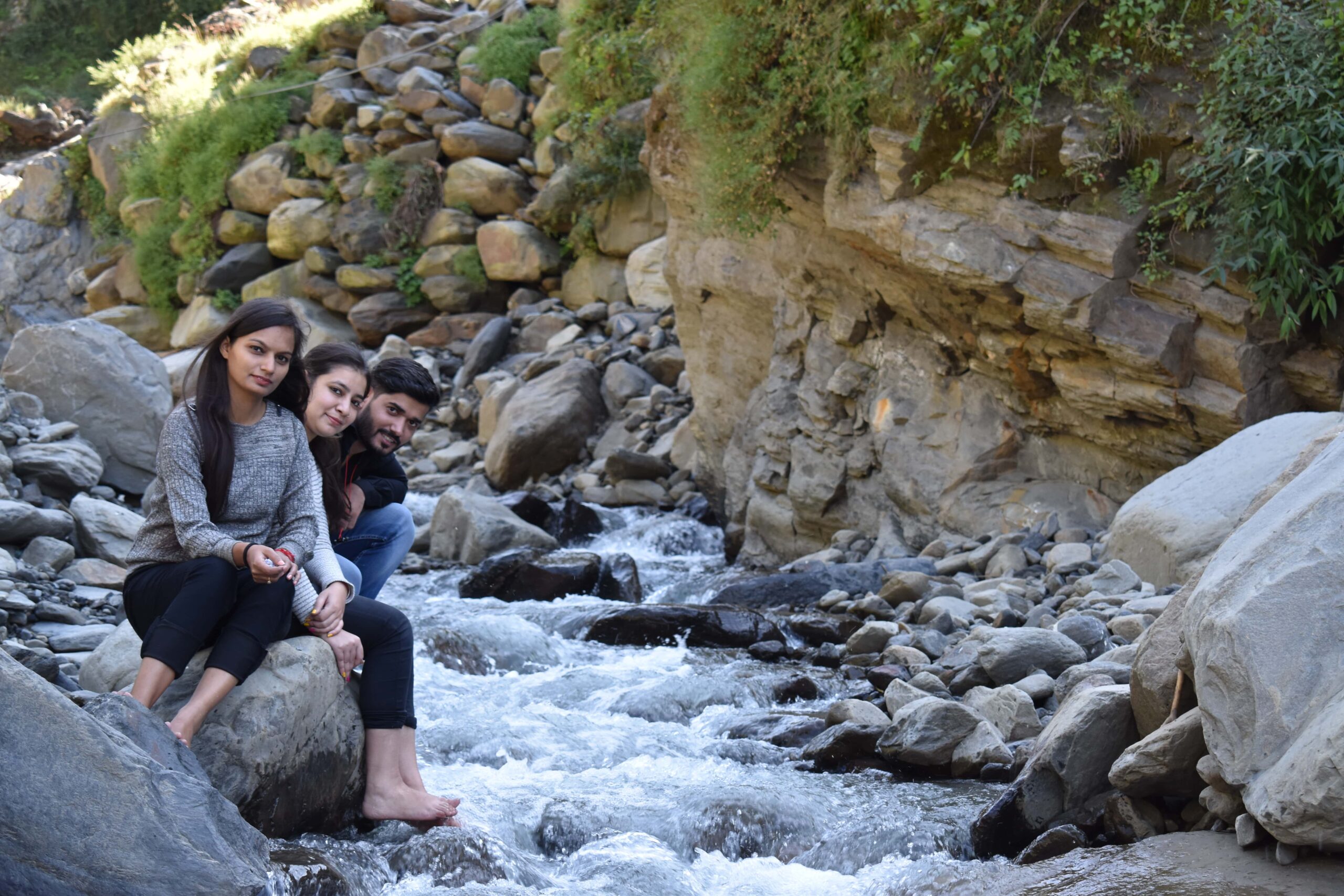 We reached Parashar at around 3 o'clock, visited the temple and felt the pleasure of seeing the beauty of Parashar Lake. The true adventure, however, began when we considered ascending the hill and taking in its stunning scenery. I usually lag behind, as I've already mentioned, but this time I noticed that we were ascending hills by taking a difficult path, so it was only natural for me to utter some magical words including "मेरा दिमाग ख़राब था जो तुम्हारे पीछे चल पड़ी". Maybe this was the first time during the entire trip that everyone stopped at the trek and looked at my face in an unexpected way. But as soon as I ascended to the top and took in the breathtaking scenery and refreshing air, all of my rage vanished.
After getting down we enjoyed maggi and started our camping at 5 pm at Fogg Hill Parashar Camping, which was only 1.2 miles from the Parashar Temple. On reaching there, we enjoyed some hot pakodas in the chilly weather. The nighttime bonfire and our conversation enhanced the experience. We began preparing ourselves for the reality of back to basics early in the morning by packing our belongings.
For me, this was the first trip like it when I experienced trekking and camping. Additionally, this vacation has been made even more special and memorable for me because of my buddies.