India is known as a land of diversity. This land's diversity is shown in the flavors available in distinctive parts of the country. One of the pertinent reasons for people to travel across the different parts of India is to relish the scrumptious dishes that show the culture. In India, people are bound to be astonished by the food and food habits that the local dwellers and tourists consume.
Here we like to share the food of Himachal Pradesh because it is prominent for hills, mountains, greenery, fresh air, and authentic foods. The food of Himachal Pradesh is defined by a combination of various cuisines from all over India.
List of famous food in Himachal Pradesh
Babru: It is one of the most well-known foods of Himachal Pradesh. This food is being served in Shimla. Babru is like a north Indian food named Kachoris. However, the taste of babru is different from kachoris as it is filled up with Himachali spices and served with tamarind chutney that makes its taste more heavenly. Do not forget to try this amazing cuisine when you visit Shimla.
Dudunj: A winter daytime snack, which a non-Pahari would always think twice before eating. You will find any group in the mountains enjoying Dudunj or Galgal ka Khatta in the Winter under sunlight. This has only a few ingredients and a quick recipe. It is a great cure for colds for mountain people. Some chillis, green coriander, spinach, salt, and sugar (preferably Jaggery) mixed and topping it with Dudunj pieces or Galgal, makes you the best winter day snack. It would be great if you could arrange charcoal for giving it a smoking effect. People after finishing Dudunj will only be huffing with hot chilli flavor but will always look forward to the next time they will be having it.
View this post on Instagram
Kullu Trout Fish: Kullu Trout Fish is a must-try food for the ones who love eating fish. It is one of the most fabulous cuisines that is served in Kullu. This dish is cooked by using minimum spices in order to bring out the original flavor of trout. It is also known as the healthiest dish of Himachal Pradesh.
Patrode: Another delicious dish from these beautiful mountains is Patrode. There are several names for this dish, and people have different ways of cooking as well as eating it. The recipe of Patrode includes spreading besan paste (mixed with all the spices like salt, chilli powder, onions and garlic) on multiple big Arbi leaves and steaming the roll in a pressure cooker or momo steamer. Then just cut them into some good slices and fry on the Tawa. Himachal itself is quite diversified, so this receipe from Mandi may differ from the other parts of the region. Also, people eat it like a Sabzi with Chapati or like a snack with evening tea.
Tudkiya Bhath: It is one of the most scrumptious pulao of Himachal Pradesh. This dish is served in Chamba and cooked uniquely. This pulao is made with different spices along with yogurt that enhances the taste of this dish.
Dham: Dham is an incredible thali style food loved by every commuter who visits Himachal Pradesh. In this thali, different dishes are served like rajma, curd, dal, rice, and a sour and sweet sauce. Dham is prepared by well-experienced chefs and provides you with the best taste ever.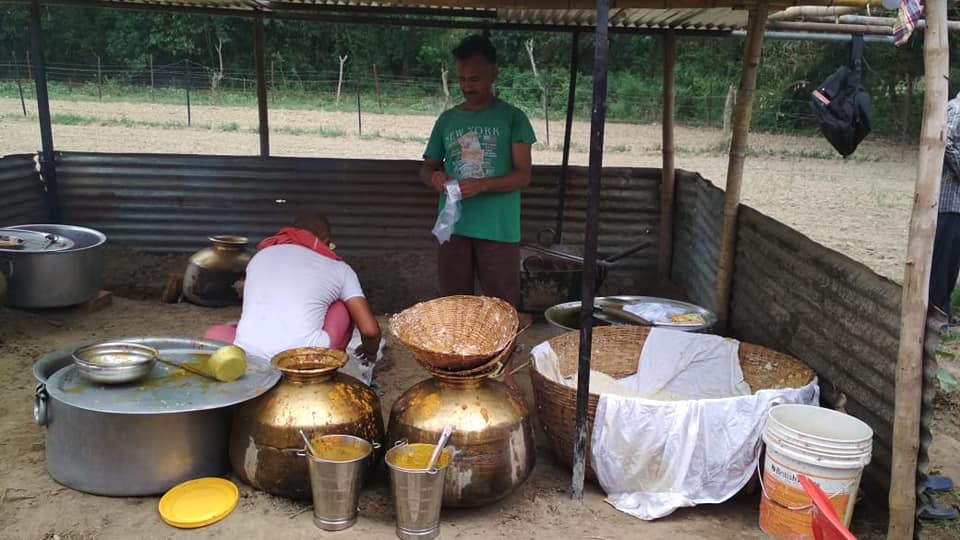 Chha Gosht: It is one of the most popular foods of Himachal Pradesh that is prepared with marinated lamb and then cooked in a special gravy made of yogurt and gram flour. It is a must-try dish for the one who loves to eat non-vegetarian food.
Sepu Badi: 'Badiya' are the best alternatives when you are unable to decide what vegetable to make for dinner or what extra dish to serve to the guests. When it comes to Sepu Badi, this one is in the royal categories of the Badi family as it is mainly served in Dham. These are big pieces made using black lentils and is cooked with multiple spices, spinach and curd. This is one of the best dish you would eat in a dham.
Bhalle: Bhalle are the fried black Lentil dish which is made in most of the festivals of Himachal. This has a donut-like sturcture and size. The Black Lentils are soaked overnight and washed to remove the skin. After that, using a grinding machine, may be only available in Himachal, a paste is made out of it. Some spices are added to it and make donut like doughs, then fried on a Tawa or deep fried. It is mostly served with the 'Dubdi' mentioned earlier.
Siddu: This food is made up of wheat flour that is very famous in Himachal Pradesh. This dish takes up much time to get ready; however, each bite of siddu gives a heavenly taste.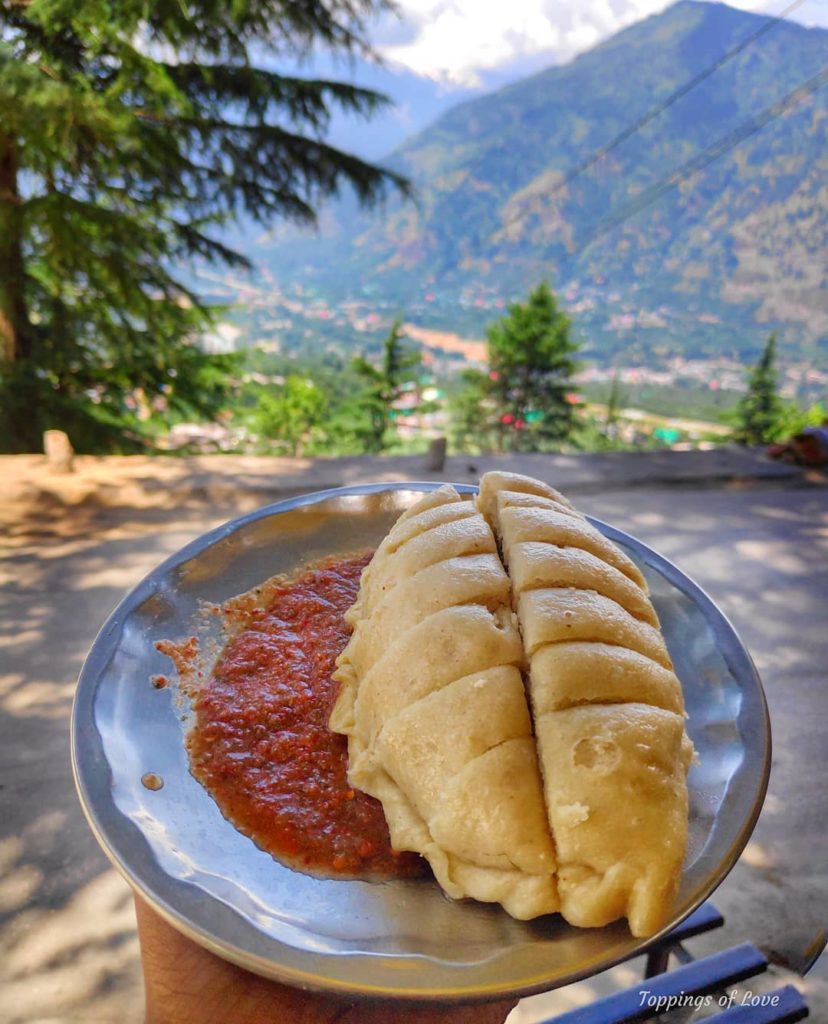 Madra: Madra is a famous Himachali food that is served in Chamba. This dish is commonly known as chana madra. Madra represents the food culture of Chamba because it is made with some special spices that the locals of the state prepare.
Batuhru: Batuhru is the brother of chapati, a usual that a upper Pahadi family would have for dinner. It is made of fermented dough and is said to be better than a chapati. People also eat the stale Batuhru of last night in the morning, filled with Ghee and some sort of salt with tea, instead of having biscuits. In festivals, this very Batuhru gets a dip in oil and is deep fried, becoming 'Dubdi', a companion for Bhalle, another yummy food from Himachal only. These Batuhrus are also filled with a stuffing of Black Lentils, Walnut, or Potato stuffing, making it the local 'Kachori' served with Pickle, Curd, cooked Chickpea sabzi, or meshed Potato.
Kalle Channe Ka Khatta: It is a pahadi dish commonly served with rice and madra in Kangra. If you want to enhance your taste buds, then it is a must-try cuisine. This dish will offer different flavors that will make your Himachal journey outstanding.
To wrap up,
The food delicacies represent a lot about the lifestyle and residents of Himachal Pradesh. Your trip to this place will become amazing when you relish the pahadi food while having the scenic beauty of this state.