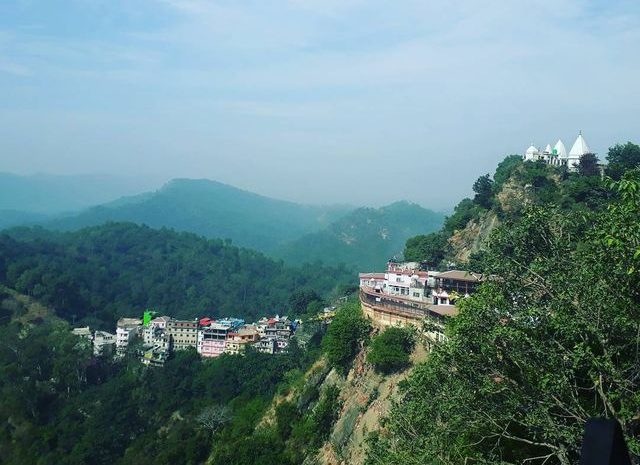 Baba Balak Nath or Sidh Baba Balak Nath is a prominent Hindu divinity destination known as Diyotsiddha. This shrine attracts an extensive following not only from Himachal Pradesh but also from Punjab, Haryana, Chandigarh, Jammu & Kashmir and other Northern states in India visit Sidh Sri Baba Balak Nath temple in Deotsidh Rd, Shahtalai, Hamirpur.
Baba Balak Nath Temple – History And Significance
Baba Balak Nath is a revered figure in Hindu mythology, known for his devotion to Guru Dattatreya and his miraculous deeds. According to the legend, Baba left his family at the age of three and was guided by Sage Narada to do Japa or chant the mantras of Guru Dattatreya. When Baba was four years and eight months old, Guru Dattatreya took him as his disciple, and he embarked on a Char-Dhaam yatra (pilgrimage to four holy places). During his pilgrimage, Baba stayed at Banwala and later reached Shahtalai in Himachal Pradesh, where he became the adopted son of Mata Ratno and reared her cows. Baba Balak Nath spent twelve years in penance under a banyan tree, doing his yogic practices and accepting roti and lassi from Ratno Mai for food.
Towards the end of the twelfth year, complaints started coming from the village people that the cows were neglected by Baba and damaging their crops. Ratno Mai tried to appease the people herself, but the village head publicly scolded her for the severe damage to his crop by her cows. Ratno Mai lost her patience and complained to Baba about his negligence. On hearing this, Baba took her and the village chief to the field they were complaining about, where they saw to their surprise that the crops had miraculously recovered, with no damage at all.
Baba Balak Nath revealed that he had never eaten the roti and lassi Ratno Mai had brought him daily, and thus, he had not created any new debt. Baba threw his fire tongs at the trunk of the banyan tree under which he had been sitting for the past twelve years, and a piece of wood broke off, revealing a heap of chapattis inside. He also pushed his Chimta into the ground, and a spring of buttermilk sprung out, which soon became a pond of buttermilk. This pond can still be seen in Shahtalai, which is how the place got its name.
Today, the site where the legendary banyan tree was located has a hollow structure called 'Land of Penance Under The Hollow Tree' and a temple with idols of Baba Balak Nath, Guga Chauhan, and Nahar Singh. Devotees believe that the soil of that place is an effective medicine against the foot disease of cattle. Baba Balak Nath's story is a reminder of the power of faith and devotion, and his miracles continue to inspire people to this day.
Also check 14 Temples of Kangra District – Himachal Pradesh
Tradition & Worship of Sidh Baba Balak Nath
Deotsidh is a pilgrimage site located in the district of Hamirpur of Himachal Pradesh, India. The worship tradition at Deotsidh is said to have originated when a Brahmin named Banarasi complained to Baba Balak Nath, a famous Natha Yogi, that some of his cows were barren. Baba cured the cows with the ash of his Dhuni, and Banarasi became a close devotee of Baba.
When Baba Balak Nath's time to withdraw from the earth came near, he asked Banarasi to continue the tradition of his Dhuni and worship. Banarasi followed these directions and maintained the practice, and the main sacred shrine dedicated to Baba Balak Nath and the place of his penance is located at Shahtalai. The Deotsidh shrine is found in a natural cave at the top of the hill, and worshippers believe that Baba Balak Nath is still present around this place in an invisible form.
View this post on Instagram

The shrine is managed by the Government of the Himachal State through the Siddha Baba Balak Nath Temple Trust, which conducts numerous religious activities and maintains the premises of the place. The worship of Baba Balak Nath involves offering roti prasad, made with expensive ingredients and prepared in a time-consuming and energy-consuming process. The food is first offered to the deity and then distributed amongst worshippers.
When Is The Right Time to Visit Baba Balak Nath Temple?
One may conveniently visit this revered place at any time during the year. It may get crowded on weekends and particularly on Sundays since Sunday holds significance as Baba Ji's propitious day. Every year, the Chaitra month fairs are held from the 14th of March to the 13th of April, and many followers flock to this event.
Where is Baba Balak Nath Temple Located?
Located in the Deotsidh region of the Chakmoh village on the border of the Hamirpur and Bilaspur districts, this place is situated at a distance of 45 km from Hamirpur. The sacred sculpture of Baba Ji resides in a natural cavern on the Dhaulagiri Parbat hillside.
Hotel and Stays Near Baba Balak Nath Temple
There are several accommodation options available to suit different budgets and preferences. One of the most popular options for staying in Deotsidh is the Baba Balak Nath Temple Trust Guest House, which offers basic but comfortable rooms at affordable prices.
The Baba Balak Nath Guest House is located near the temple and offers a peaceful and serene environment for pilgrims. Additionally, there are a few other guest houses and lodges located in and around the temple complex that offer simple and affordable accommodations.
For those looking for more luxurious options, there are several hotels and resorts located in the nearby towns of Hamirpur and Bilaspur, which are approximately 20-30 km away from Deotsidh.
These hotels offer comfortable rooms, modern amenities, and excellent hospitality services. Some popular options include Hotel Hamir, Hotel Sagar View, and Hotel Sunil Plaza.
How To Reach Baba Balak Nath Temple?
It is easy to reach Baba Balak Nath, Deotsidh by bus, taxi, or train. Here are the following transportation options:
Which airport is near to Baba Balak Nath Temple?
Unfortunately, there is not any direct air service to Hamirpur, thus direct air service is unavailable. However, travellers can fly to Gaggal (Kangra), which is the nearest airport to Deotsidh, located approximately 128 km away near Dharamshala.
Which railway station is near to Baba Balak Nath Temple?
Direct train service is not accessible to this destination. The nearest railway station to Deotsidh is Una, which is located on a broad gauge railway line and approximately 55 km away.
Baba Balak Nath Temple in Deotsidh by Road
Deotsidh is easily accessible by road, with regular bus services (HRTC, CTU, Haryana Roadways) available from all major cities in Himachal Pradesh and neighbouring states. Taxi services are also readily available for convenience.
Conclusion!
Baba Balak Nath Deotsidh is a significant pilgrimage site located in the Hamirpur district of Himachal Pradesh, India. It is revered by devotees from all over the country and is believed to be the abode of Baba Balak Nath, a revered Hindu saint. The temple complex is surrounded by beautiful mountains and offers a serene and tranquil environment for pilgrims to meditate and seek blessings.
Additionally, there are several accommodation options available for visitors, ranging from basic guest houses to luxurious hotels, ensuring a comfortable and enjoyable stay while visiting this holy pilgrimage site. Overall, Baba Balak Nath Deotsidh is a must-visit destination for those seeking spiritual and religious solace, and the beautiful natural surroundings and serene environment make it a peaceful and rejuvenating experience for all who visit.