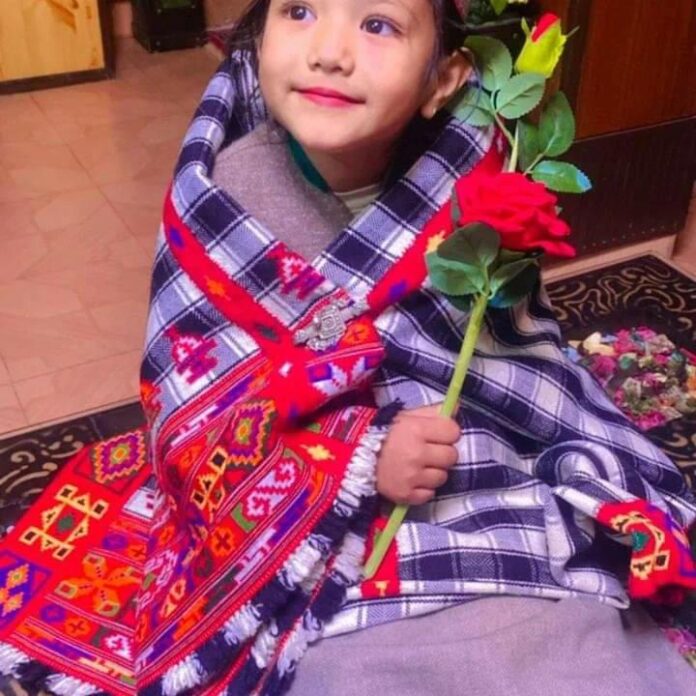 Kinnauri handloom is based on sheep wool. From simple caps and socks to designer Shawls, Dohru and Mufflers, the basic thread is sheep wool. The wool is firstly spun to thread manually and even with the help of machines. The tool used to spin the sheep wool is called "Pangt", made of wood. After spinning, the thread is rolled into balls.
Making the thread using the sheep wool has been an integral part of Kinnauri culture, such that there are so many folk songs mentioning the ladies and gents spinning the sheep wool. In fact, you can find at least one spinner in every household of Kinnaur. The spinners are specifically women, but some of the men are also good spinners, especially those who are a shepherds. Once the thread ball is ready, the process of making clothes from it differs from cloth to cloth. The clothes/articles made up of these wools includes Coat, Kinnauri Cap , Dohru, Choli, Pants, Muffler, Blanket, Bedsheets, etc.
Coat/Cap/Waistcoat/Pants/Choli:-
For making above mentioned articles, a simple cloth is weaved. No design is required while weaving such types of clothes. This simple cloth is called "Patti". The rate of weaving patti is comparatively less than the other designed clothes like Dohru, Kinnauri Shawl, muffler etc.
Dohru ,Pattoo, Shawl, Muffler:-
In these articles, you can find the handwork made up of colourful wools, which is Cashmilon-based. The design work depends upon the cloth and the choice of the customer. These are comparatively more expensive than simple patti, or you can say that of other Kinnauri handloom.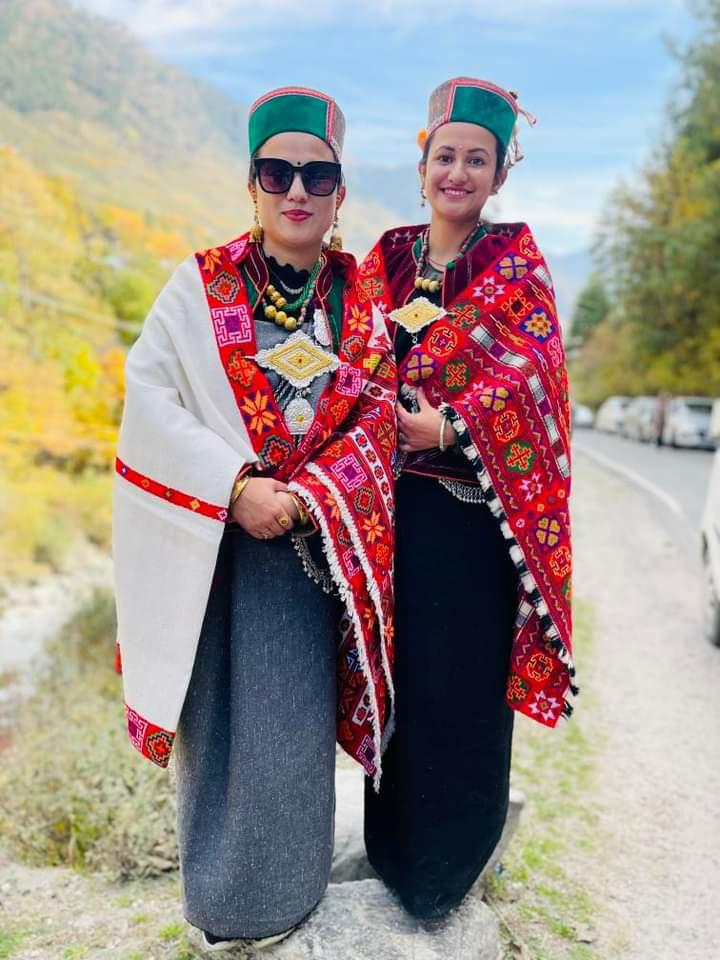 Socks, Gloves and Cap:-
The socks, gloves and caps are knitted from spun sheep wool, like basic cap socks and gloves knitting. However, these are not durable as acro wool, but because of natural fibre and its softness, they are high in demand.
Blankets and Bedsheets:-
The making process of blankets and bedsheets is comparatively tougher than other articles as the spun wool needs to be intermingled for the thickness of the wool to give the blanket more warm effect and for its durability. Earlier, almost every member of the family used to own the sheeps, and one of the family members used to be a shepherd. Now the scenario has totally changed, people are moving towards synthetic clothes, easily available but on contrary not good for the skin. The sheep wool-made clothes are our identity and symbol of our culture. We should not lose it over comfort. Other than this, people are also not indulging in spinning wool. The new generation doesn't even know the technique and methods of spinning. Although young generations are busy with education, they should know the basics and learn how to do it. So that we can pass this tradition of weaving, spinning and rearing sheep to the next generation, otherwise, we will lose our gold in search of diamonds.