Shimla, better known as the "Queen of Hills," is the capital of Himachal Pradesh and the most popular hill station. The place is surrounded by snow-covered Himalayas and lush green forests of oak, rhododendron, and cedar trees. The pleasant climate and the scenic beauty of Shimla attracted the British, and in 1864, they made it their summer capital. Shimla also known as 'Simla' got its name from Goddess "Shyamala Devi," who is an incarnation of Goddess Kali.
Location: Shimla is ideally located on top of seven hills at a height of 7,238 ft. above sea level, covering an area of about 25 sq km east to west. One can reach Shimla through roads, railways and flights.
By Road: The place is easily accessible by buses (Volvo or Ordinary) from Chandigarh which is about 114.1 km. and from Delhi which is about 406 km. It takes around 3 and half hours to reach Shimla via Chandigarh-Shimla expressway. Many HRTC buses run between the districts of Himachal Pradesh and from other states as well.
By Railways: The nearest broadgauge railway station is Kalka which connects Shimla through a narrow-gauge railway track which is about 90 km steep curvy drive. The famous Toy-train of Shimla runs through the track and takes about 5-6 hours to reach, covering a scenic path and 102 tunnels. The Kalka-Shimla railway line is declared as the World Heritage Mountain Railway line by UNESCO.
By Air: The nearest airport is Jubbarhatti airport which is 25 km from Shimla.
Also read – Places to visit near Shimla
Besides the beautiful landscapes, cultural history and amazing flora and fauna, many places of worship and temples also exists around Shimla. 
List of famous temples in Shimla District:
1. Jakhu Temple
The Jakhu temple is the most popular and one of the ancient temples located on the Jakhu Hill at the height of about 8,054 ft above sea level, and is about 2.5 km from the Mall Road. One can reach there by doing a scenic trek of about 2 km, or can hire a pony or via cable car (ropeway). The temple is dedicated to Lord Hanuman.
Legend says that Lord Hanuman stopped here to take instructions from Rishi Yaksha regarding the herb "Sanjeevani Booti" and promised to meet him on his return journey.  Due to time considerations and urgency of the situation, He couldn't fulfill His promise. In order to keep His promise Lord Hanuman reincarnated in the form of an idol and later the Rishi built His temple on the hill. The feet of Lord Hanuman are still embarked here. A 108 feet statue of Lord Hanuman is constructed at the temple and is one of the tallest in the country. The festival of Dussehra is widely celebrated here. Jakhu temple is the highest temple in Shimla.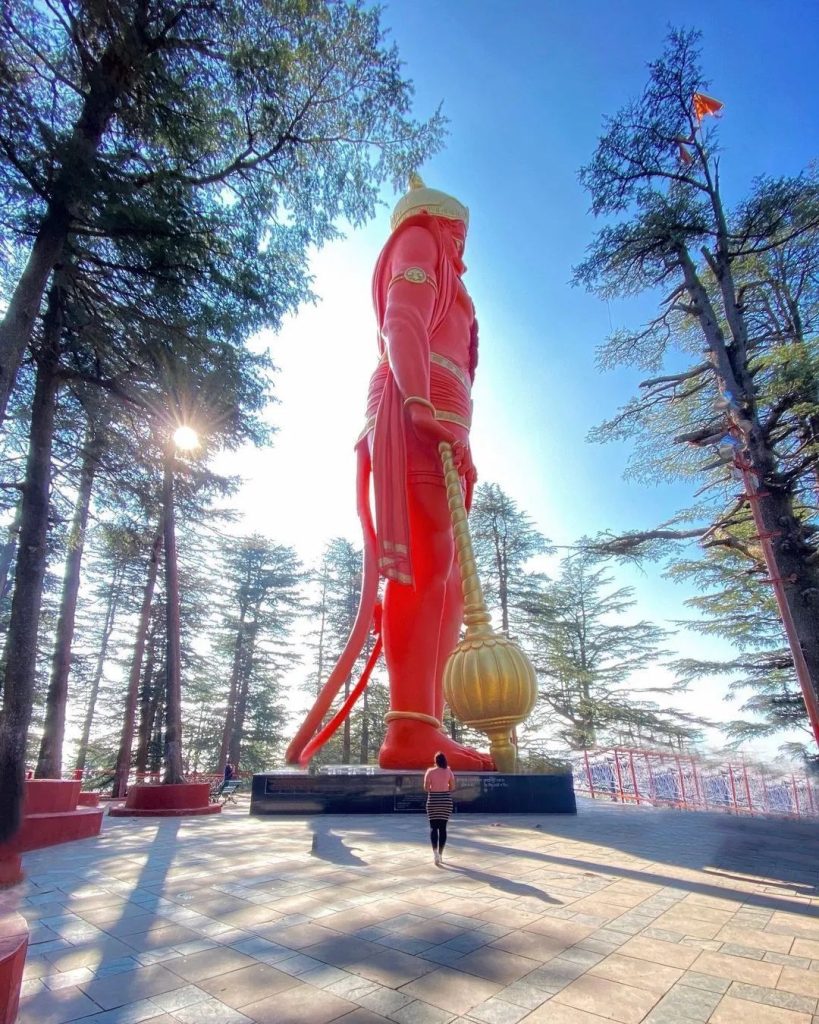 2. Tara Devi Temple
The 250 years old temple is located at the backdrop of Himalayas on Tara Parvat at a height of about 7200 ft above sea level, and is about 11 km. away from the main city. Built in Pahari style architect, the temple is dedicated to Devi Tara (an incarnation of Goddess Kali). It is believed that the idol was brought here from Bengal by a descendent of Sen Dynasty (family Goddess).
Legends says that once King Bhupendra was hunting in the Jungle and rested behind the tree, then Maa Tara, Lord Hanuman and Bhairav came in his dream to built the temple. He gave 50 bighas of land and wooden idol of the deity was installed here. Then years later Maa Tara gave Darshan to King Balbir Sen of same dynasty, and he installed Ashtadhatu idol of Maa Tara in the temple.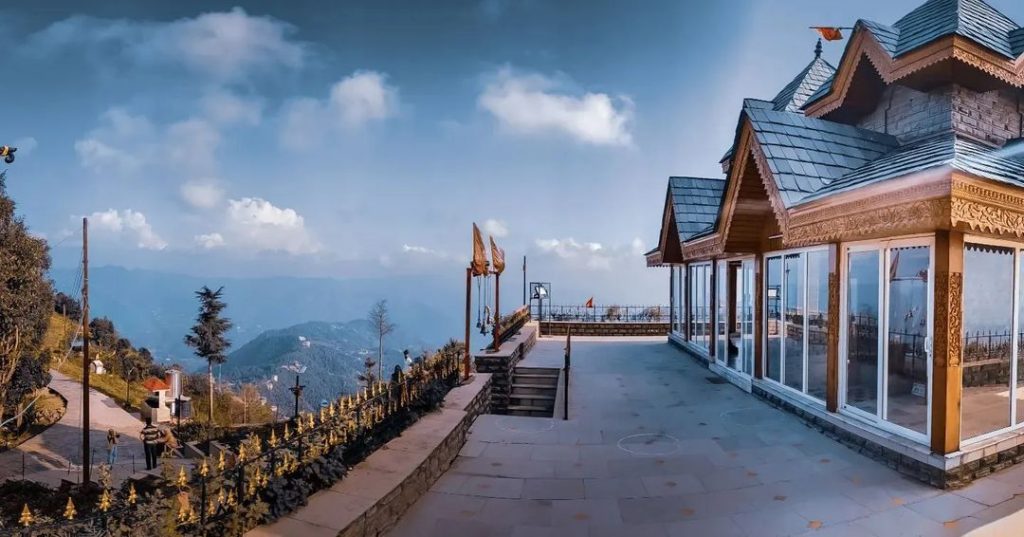 3. Kamna Devi Temple
The temple is located on a Prospect Hill at a height of 2200 m above sea level, and is about 6 km from Shimla city. The temple is dedicated to Goddess Kali (an incarnation of Goddess Durga). It is believed that whoever comes here to seek the blessings of the deity, Maa Kali fulfills their desires and fill their life with happiness. The temple is surrounded by forests of pine and rhododendron. People who come here gets the blessings of Goddess, as well as can do many adventurous activities here or can simple enjoy nature. The festive of Durga Puja and Navratri are widely celebrated here.
View this post on Instagram
4. Kali Bari Temple
The temple is located on Bantony Hill, surrounded by forest and Himalayas. Goddess Kali is worshipped here who is famously known as Goddess Shyamala (name Shimla is derived from the deity). Legends say that the ancient temple was built by a Bengali Brahmin, Ram Charan Brahmachari in 1845 on Jakhu hills. Later the temple was relocated to the present location by the British. A blue wooden idol of Goddess Kali is established here. The temple location is a treat to nature lovers and one can also meditate here for inner calmness.
View this post on Instagram
5. Hatkoti Temple
The temple is located in Hatkoti Village at the banks of Pabbar River, which is about 100 km away from Shimla. The ancient temple was built between 6th to 9th centuries (the Gupta Period) in Indian History with the architect of Shikhara style. The main idol who is worshipped here is Goddess Mahishasurmardini (an incarnation of Goddess Durga), who is 1.2 m in height and is made up of Ashtadhatu. There are inscriptions on both sides of the idol which are not able to decode till date. There is another temple dedicated to Lord Shiva in the temple premise and the Shivalinga is wider that the door itself. Temple is also dedicated to Pandavas of Mahabharata. Many fairs and festivals are held in the beautiful temple during the time of Navratras.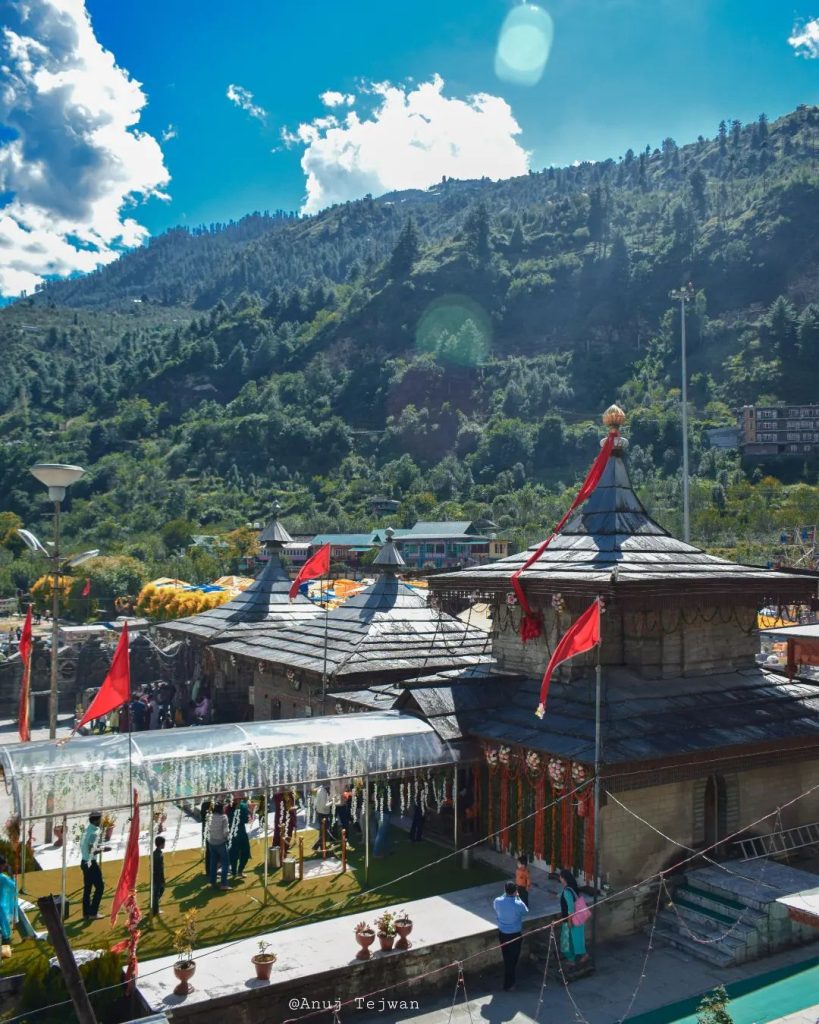 6. Hatu Mata Temple
The temple is located on the Hatu peak at a height of about 3400 m above sea level and is situated at Narkanda village which is 71 km from Shimla. The temple located at the site where on one side are mountains and other side is valley with beautiful trees. The main deity worshipped here is of Maa Kali (a deity of Narkanda tribe), who fulfils the wishes of devotes, hence the name Manokamanapoorna Mata. There are many stories related to the temple; some says that the temple is dedicated to wife of Ravana; Mandodari. Some says that during the period of Mabharata; Pandavas stayed in the mountains at the time of their exile. Some also says that this is the peak where Draupadi jump off the peak on their way to Heaven. An image of Draupadi in the form of stone is established here. The temple's architect is of Pahari style with a combination of Buddhist style.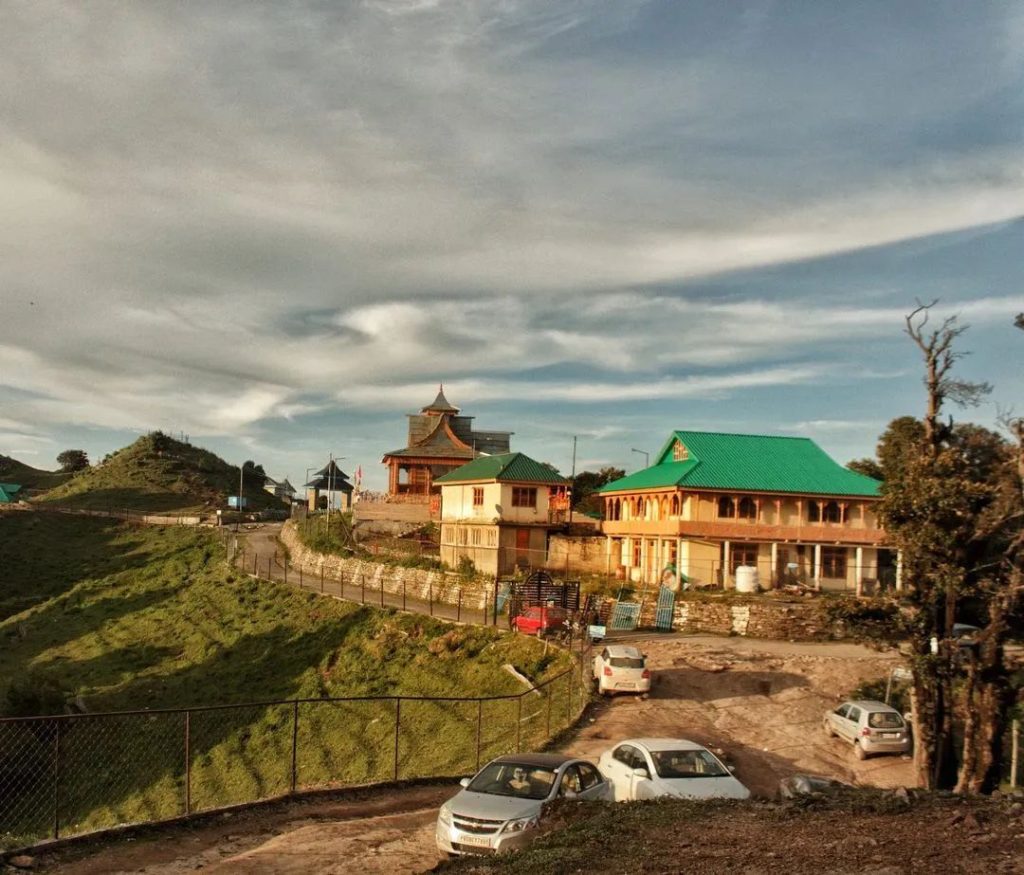 7. Dhingu Mata Temple
The temple is located on Dhingu road in Sanjauli which is 10 km from Shimla. The temple is dedicated to Maa Durga. There are two shrines in the temple; one is of Maa Durga and other is of Lord Shiva in the form of shivalinga. Legend says that Maa Durga came in the dream of local Raja Dhingu and asked him to build a temple.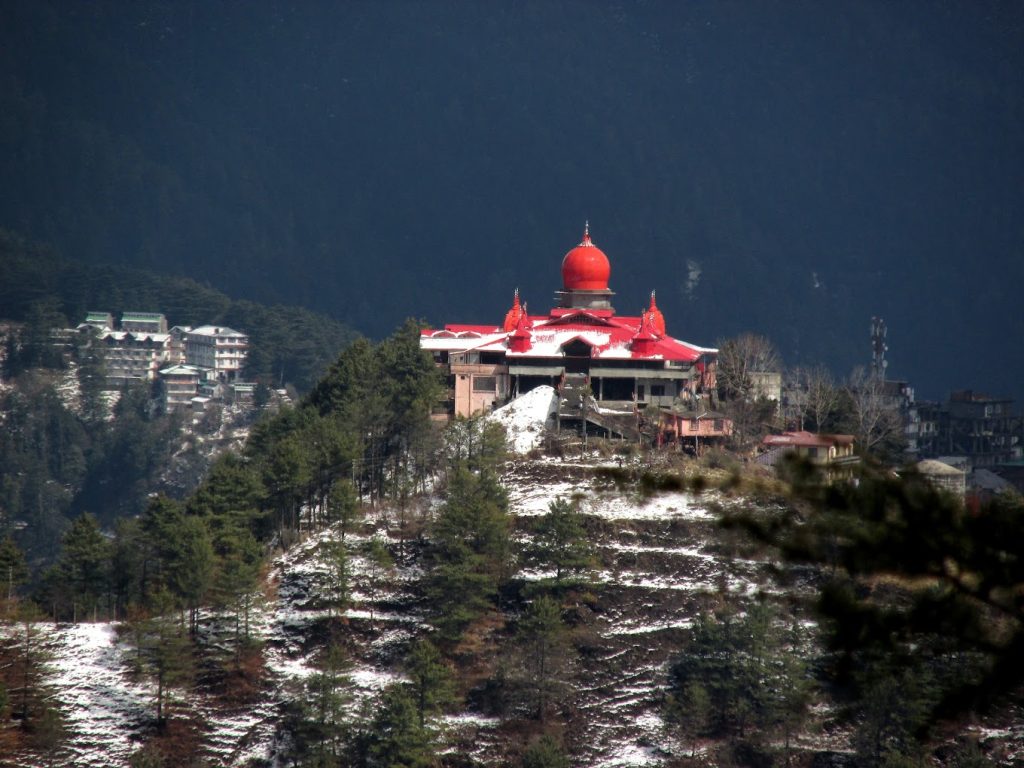 8. Mahunag Temple
The temple is located in the middle of Naldehra Golf ground at a height of about 1830 m above sea level, which is 22 km from Shimla. The temple is dedicated to Lord Karna. Legend says that whenever the devotees are in danger they worship Lord Karna and He came in a form of Bee to help them. The temple was built by Raja Shyam in 1664 in old Pahari style. Every year Nag Panchmi is celebrated here, and fair is held on Makar Sankranti.
View this post on Instagram
9. Shoghi Hanuman Temple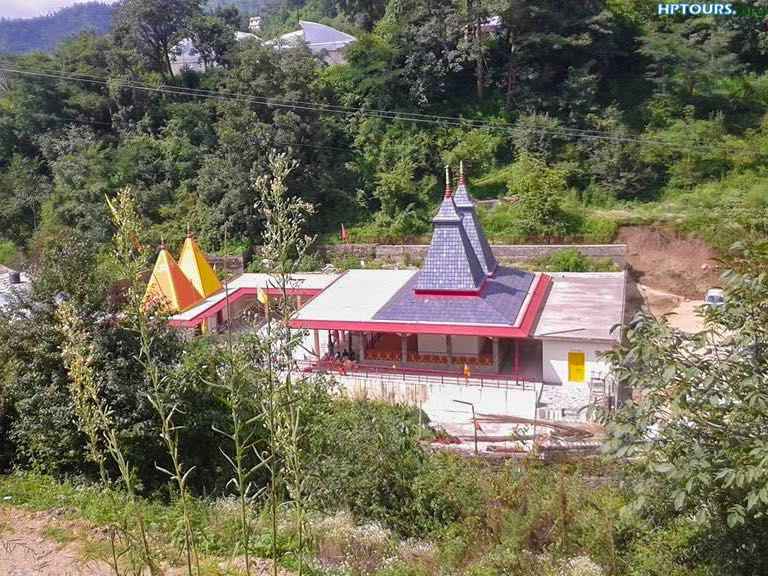 The temple is located in Shoghi village which is about 15 km from Shimla. The temple is built in the middle of forest which gives the environment a calm and scenic touch. Lord Hanuman is worshipped here. The temple has beautiful paintings of many mythological events.

10. Sankat Mochan Temple
The temple is located in the middle of lush green forest at Taradevi which is about 5 km from Shimla. The main idol worshipped here is of Lord Hanuman, however idols of Lord Shiva, Lord Rama and Lord Ganesha are also established here. It is believed that the temple was constructed by Baba Neeb Karori ji Maharaj, who in 1950s came here to meditate for 10-12 days and thought to build the temple dedicated to Lord Hanuman. He along with Governor of Himachal Pradesh and some locals finished building the temple in 1962. A temple dedicated to Baba is also constructed here. One can experience nature and beautiful view of Shimla from here.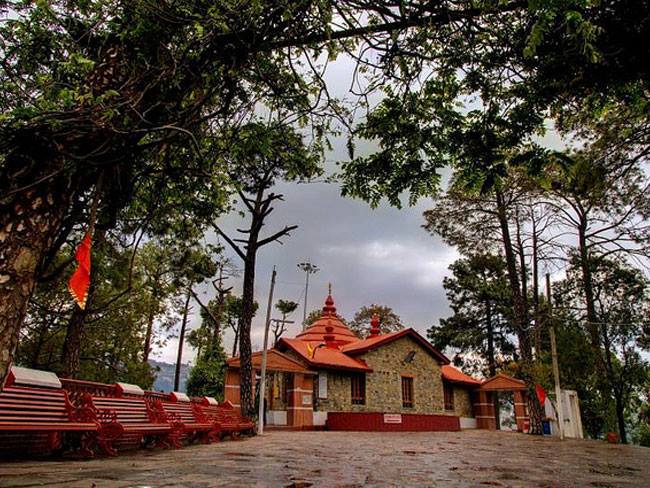 Check out the Temples in Kangra and Temples in Hamirpur District