The last trek I did was back in November. And, from then I had been eating more than usual – all thanks to experimental cooking during the lockdown. Before starting the trek, I was very confident about my fitness level as walking, exercising and climbing stairs was part of my lockdown routine. But, after trekking for a few hours, I was in self-doubt to cover the trail and reach the first rest point on time. I never thought this trek could be this challenging & good! So here's my experience of the first trek after the lockdown.
Throughout the lockdown period, I have been reading a lot of travel blogs stating – 'traveling won't be the same', 'gone are the days of impromptu vacations', etc…etc…16th September was the golden day for me in the year 2020 when Himachal was finally open for Tourism without any registration & Covid test. I was so happy to hear this news that hours later the first trek plan to Churdhar with my friends was ready. This was a very quick decision made out of excitement and eagerness to wear the trekking shoes and climb up the hills.
Also read – Beautiful Trek in Lap of Dhauladhar
On the 18th Night, my friends and I boarded a private taxi from Chandigarh as public transport was still not allowed in Himachal. We reached Noradhar, the base camp for Churdhar Trek at 8 in the morning. And, the biggest mistake we did was starting the trek without having breakfast assuming that we might get some tea shops and cafes on our way.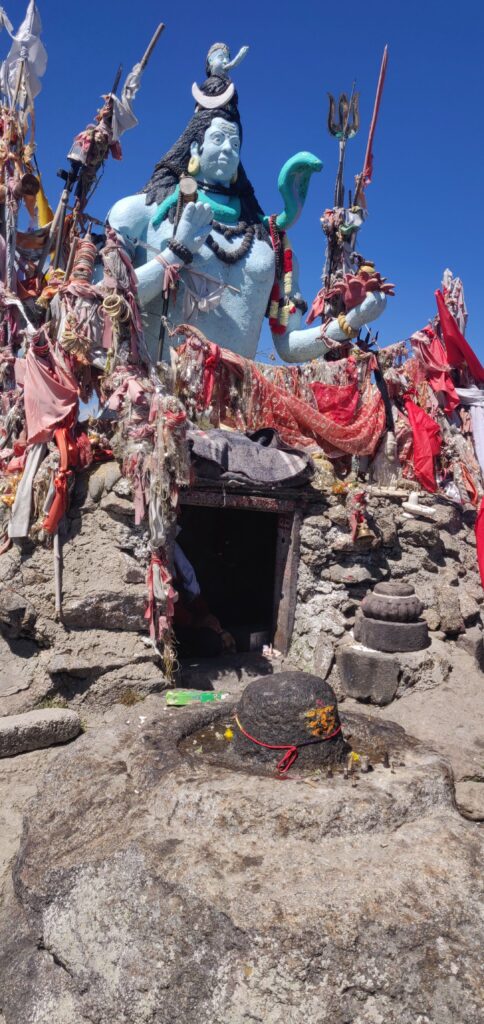 Noradhar to Churdhar has a total of 2 rest points which are also potential camping locations; Jamnala and Teesri. To avoid heavy backpacks and a smooth journey, we had decided to carry minimal food along thinking that we would make our emergency purchases on our way to Teesri. But, as Himachal was opened for tourism only 2 days before, all the tea stalls and cafes were shut. After learning about the food situation, we decided to take the easy route from Noradhar to save our energies. And, planned to take the short cut route during the descend.
Thankfully, we carried our tent, sleeping bags, utensils, ½ kg potatoes, some rice, 4 chocolates, 6 packets of Maggie, 1 packet of ready-to-eat upma, and 4 bottles of water. We were a total of 4 friends and it was really difficult to manage our 3 days stay with the available food. By the time we realized this, it was pretty late to descend back to Noradhar and stock more.
We decided to continue the trek thinking 'dekhi jaegi ab'. With passing time, the trail became difficult and empty stomachs made the experience even worse. After a few hours, we couldn't find any water resources and the water we had stocked was almost getting over. It was really hot during the day and all were super hungry but the scarcity of water made it impossible for us to stop and cook. We knew that somehow, we had to cover the first 7 km to reach Jamnala – the first rest stop.
As this was a quick and spontaneous plan, we didn't prepare and research much about the current situation and also underestimated the level of difficulty. Two of us were in pretty bad shape and one was about to faint, looking at this situation we decided to eat chocolates and proceed further. With the grace of Lord Shiva, we reached Jamnala at 1:30 pm. We ran towards the water source with so much happiness and finally cooked Maggie there. After taking a break of 2 hours, we decided to trek ahead for another 5 km and camp at Teesri – the second rest point.
As we left Jamnala, the network was lost and the forests started getting dense. At about 4:30 we realized that maybe it was a bad decision to move ahead and was too much to cover for the day. The energy we had gained with Maggie was all over in an hour. There were very few people trekking up with us but, we found a lot of people descending back. This gave us an idea of asking for packed food from people going back to Noradhar. We were grateful that people helped us with bhujia, chips, and biscuits. We took small breaks and ate these snacks to fill up our energy levels. Suddenly, around 5:30 pm, the cold breeze started hitting us and we had to take out our jackets/fleece. In another half an hour, we reached the starting point of Teesri. We all looked at each other with a big smile and rested on some rocks for a while before proceeding for another 1 km where everyone camps.
Suddenly, we saw a shepherd's tent down the hill and decided to ask for some food. He. Glad took that decision! My friend and I decided to go down and the other 2 boys waited for us. The strategy was 'ladki dekh k khana de denge'. Hahaha. It worked! They gave us some potatoes & rice and also suggested us to camp near their tent as we could use their bonfire all night. It was a brilliant decision! We called the boys and started pitching the tent. Now, there was another task, how to 'assemble the tent'. We had seen the video tutorials on YouTube. The tent was for the occupancy of 4, it was big, actually huge. And, there was no connectivity that we could recap on YouTube. So, we had to brainstorm and do it all on our own. It took about half an hour and ta-da ' the tent was up'!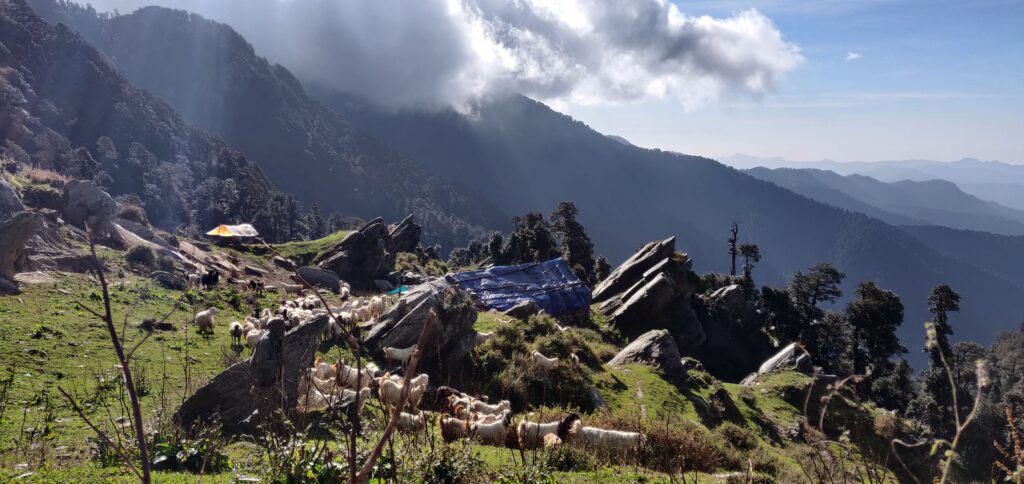 We decided to cook pulao and proceeded towards the Shephard's campfire. We don't remember if we talked with each other that evening, as there was no energy left and we all were super tired and soon took off to sleep in the tent.
The next morning, there was a lot of pain in the legs but we were firm that we would trek up for another 5 km to reach Churdhar Peak. We had upma & cold coffee in the breakfast and started trekking again at 9:30 am. Thanks to the Shephard, we didn't have to carry our bags or tent along. We left everything in the tent itself and just carried the water bottles and some biscuits. The views were so amusing that all our pains got vanished. In the beginning, the trek was really easy but slowly it turned to moderate, to super difficult, and to rock climbing. We met some people on our way who told us that there is a temple just below the main peak where there is one Dhaba offering dal, rice & paranthas. We were so excited to know that we would get some food. Automatically, our mood & speed was uplifted and we enjoyed our way to the peak.
There are two routes to reach the peak we took the shorter one that takes directly to the peak and then to the temple. The other route is a little longer one that takes you to the temple before reaching the peak. The previous day, we were so tired that we hardly took any pictures. On Day 2, we made the most out of our cameras and Go Pro.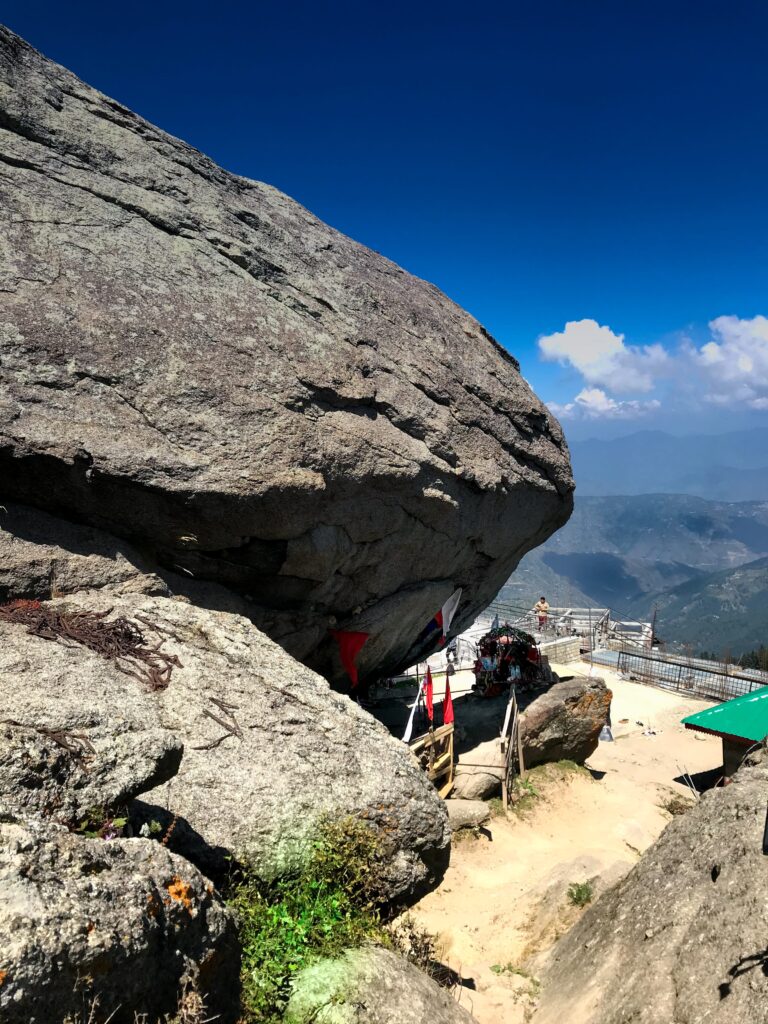 We reached Churdhar Peak at 12:00 pm. The views from this peak were breathtaking and out of the world. It seemed as if we were literally at the top viewing all other peaks. We spotted some famous peaks of Uttrakhand there. After taking some pictures & videos, we descended towards the Chureshwar (Shirgul) Maharaj Temple. It took us an hour to reach there. After visiting the temple, we refilled our water bottles and walked towards the Dhaba, which we were dreaming about throughout the trek. Haha. We had Dal Rice there and packed parathas for the evening.
Finally, said bye to the holy place and descended back towards our camp in Teesri. We descended slowly, enjoying our way back. We reached back to our camp at 5:30 pm. This was the day when we all enjoyed, talked, danced, laughed, and cooked – the best night of our trek. This night, we again cooked pulao, and believe it or not we had paranthas along. After grazing, the sheeps returned to the tent and we were surrounded by about 250 of them. It was a beautiful night; we spotted the milky way in the middle of the night too.
The next morning the sheeps woke us up, with their baa-baa. It was really funny and a beautiful morning. It was cloudy all 3 days so couldn't get a chance of spotting sunrise or sunset. We cooked Maggie for the breakfast, packed our tent and bags, and left the camp at 8:30 am. We also contributed all our left-over rice, potatoes, biscuits, spices, and sugar to the Shephard as he was of great help to us. Also, offered some money, but the human was so sweet and just refused the money. We halted at Jamnala for an hour. And, then took the shortcut route to Noradhar. This route was much more scenic than the one we took while ascending. So green were the views and we could see the whole valley.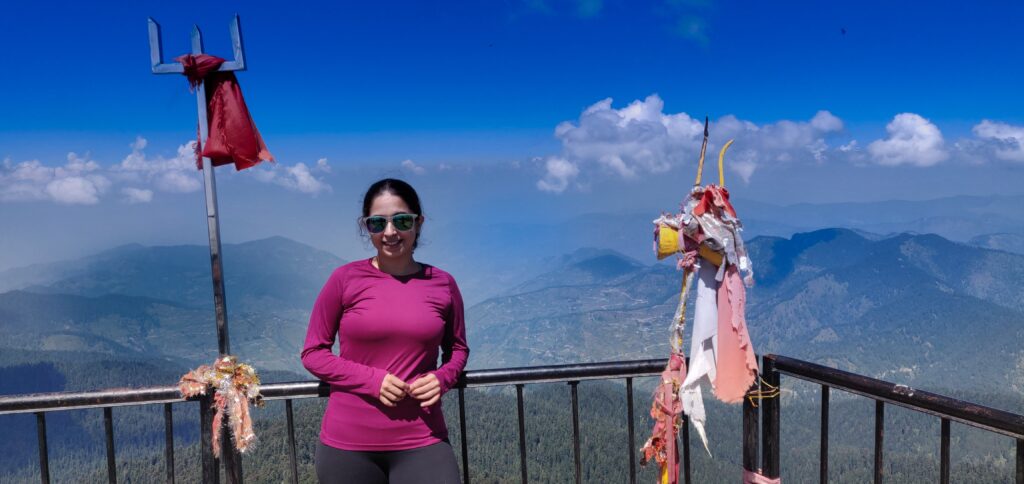 In some time, these green views started turning out to be dusty and rocky. As this was a shortcut the descend was difficult. Full of slippery rocks and sand. We had to be super careful. This was a really difficult time for all four of us. At 12:30 we finally reached Noradhar, where our driver was waiting for us to take us back to Chandigarh.
All over it was an exceptional experience, which I would suggest everyone to take. But, only after researching enough for the trek and the current situation.
Note: All hygiene and safety protocols were followed during the trek so that minimum risk is imposed on the people of mountains isolated from pandemic for months!